Could you introduce yourself and describe your job as an orthodontist?
My name is Minna-Maria Tervonen and I am Specialist in Orthodontics and dentist-in-charge of the Kemi oral health unit of Mehiläinen Länsi-Pohja Oy. My clinical work focuses exclusively on orthodontics and includes screening, treatment planning, consultations, and all kinds of orthodontic treatments with fixed and removable orthodontic appliances.
How is orthodontic treatment arranged in your region?
According to the new national regulation, at the very least children in the 1st, 3rd, 5th and 8th grades should be examined, and screening is carried out by various professionals (dental hygienists, dental assistants, dentists) at these check-ups. This autumn we have started pop up check-up for school children at schools' premises in Kemi with a mobile dental clinic. All the dentists also provide orthodontic treatment. As an orthodontist, patients are either referred directly to me or I am asked for consultation, in which case I either familiarize myself with the patient's records or, upon request, visit another dentist's room for a consultation while the patient is sitting in the chair. LM-Activator™ is one of the most common appliances for orthodontic treatment that we use.
What benefits does treatment with LM-Activator™ offer from the orthodontist's perspective?
LM-Activator™ is easy to use, comfortable, and safe for the patient. Ideal occlusion is inbuilt in the appliance, which makes it safe also for the orthodontist to use. When treatment is timed correctly, the patient's occlusion almost seems to adapt or modify itself without the need for more complicated appliances!
We have obtained good results with LM-Activators™ in many patients. In the case of young children of 5-6 years of age, the first appointment is of key importance as the significance of the use of the appliance needs to be explained to the parents in detail. Often young children get excited about the treatment and they like to fill in the LM motivational diamond path with stickers. Older children tend to pose a greater challenge, because their motivation to use the appliance may decrease with the approaching puberty. Malocclusion has often developed further and obtaining results by guiding tooth eruption alone is no longer possible. At this point, it becomes necessary to move the teeth, which is more painful. I would like to see an increased use of interceptive treatment for adolescents in the future. The treatment practices we follow are guided by research results on interceptive orthodontics.
Does the use of LM-Activator™ help in reducing the overall costs of treatment?
Yes, absolutely. Patients using the appliance need to attend appointments rarely, and the appointments are usually quick and brief. In addition, follow-up appointments can be taken care of by different professionals and do not always require a dentist. The costs of LM-Activator™ are low: if the appliance is used correctly, the patient may not need other expensive orthodontic treatments in the future. LM-Activator™ can help prevent malocclusion from getting worse, and the treatment results are usually good and, according to research studies, also stable.
Which types of malocclusions can LM-Activator™ correct effectively?
In my experience, this appliance is very effective in the treatment of the most common types of malocclusions. These include, for instance, Class II or distal bite, deep bite and open bite, increased horizontal and vertical overbite, minor crowding and spacing, functional lip and tongue disorders, and scissors bite.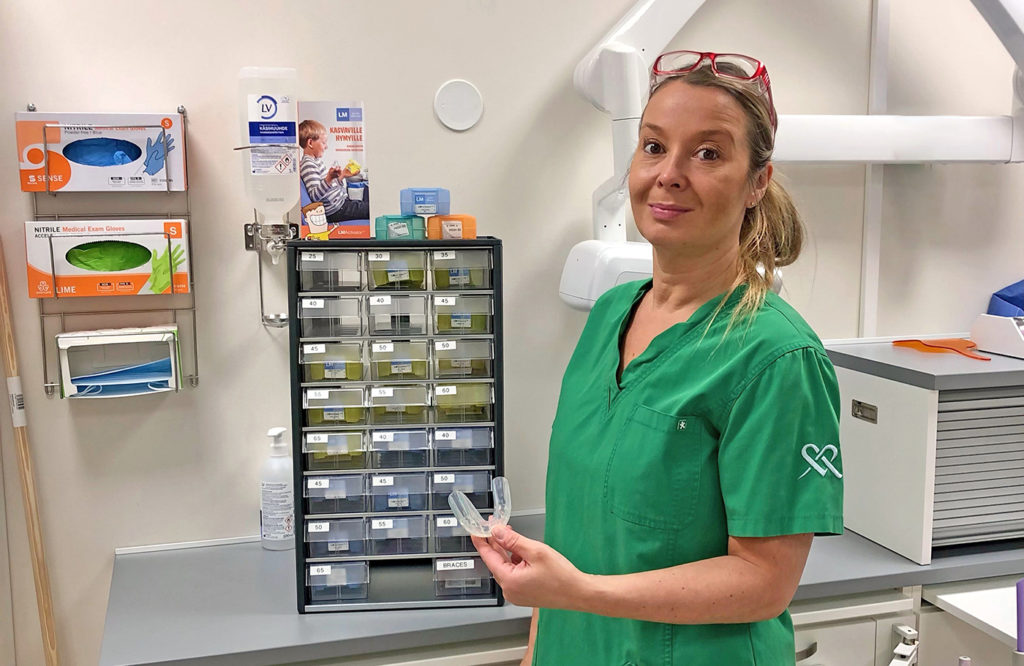 I have obtained good clinical treatment results with LM-Activator™ over a period of 15 years. Issues with crowding, increased horizontal overbite and traumatic deep bite with palatal impingement have been successfully corrected, and even if we have not been able to fully eliminate or correct the patient's malocclusion, the appliance has managed to prevent it from getting worse.

Minna-Maria Tervonen, dentist-in-charge, DDS, Specialist in Orthodontics
LM-Activator™ patient case
Boy 5 years old
Angle Class II- Deep bite, Overjet

LM-Activator™ article no 2